Back in 2019 we had a Grand Opening for The Old Calf Shed; well, we had two Grand Openings over two days in order to accommodate everyone! Carwyn, Kindred Spirit Cocktails, created a special Shed 1 Breakfast Martini for the event and Aroma Foundation Catering* provided the food and waiting staff. Nick Hall, and food students from nearby Ulverston Victoria High School cooked and served a selection of different canapés to 80 guests over two nights. We can't recommend the scheme, their catering and everyone involved highly enough.
When discussing the menu, we also wanted to incorporate our products. Our Gin Jelly Marmalade gave a tasty glaze to the sausages. Our other idea was to use the locally grown blackcurrants we use to make our Shed 1 Blackcurrant & Liquorice Gin Elixir. Nick made this Blackcurrant Mousse and served it in brandy snap baskets. They were delicious! Zoe's continued to make it and you can sometimes find it on our Afternoon G&Tea menu, served on Ulverston Shortbread.
Boozy Blackcurrant Mousse
Ingredients
500g Blackcurrants
125g-150g Sugar (amount depends on how tart the blackcurrants are and how sweet you want it to be)
50ml Shed 1 Blackcurrant & Liquorice Gin Elixir
150ml Double Cream
5 Gelatine Leaves (or equivalent vegetarian substitute)
2 Egg Whites
Method
1. Gently cook the blackcurrants with the sugar until the liquid is released and you have a runny jam consistency.
2. Whip the double cream to soft peaks whilst you wait.
3. Soak the gelatine leaves in cold water for 5 minutes.
4. Sieve the blackcurrants so you have a smooth liquid. Whilst still warm, add the gelatine leaves. Ensure you give this a good mix so the gelatine dissolves into the fruit puree. Add the Shed 1 Blackcurrant & Liquorice Gin Elixir and stir.
5. Add the blackcurrants to the whipped cream and whisk the egg whites to stiff peaks. Very gently add this to the cream and blackcurrant mix.
You can divide the mousse between 8 serving dishes and refrigerate for a few hours before serving.
Or, spoon in to piping bags and refrigerate until set, a few hours. Once ready, pipe in brandy snap baskets, or onto shortbread.
Garnish with a few fresh blackcurrants.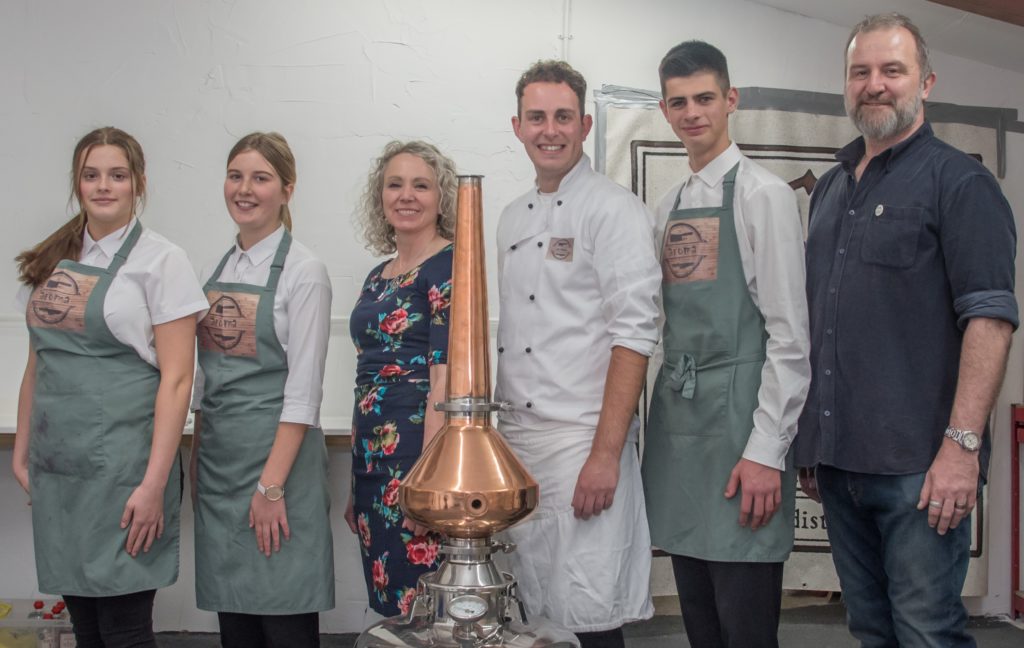 *Aroma was set up for the sole purpose of helping young people in Cumbria access Catering College. They do this through helping with applications, offering mock interviews, and helping prepare people as best they can. However, the biggest issue in students not moving on to Catering College is the financial implications. With this in mind, Aroma is extremely proud to be able to offer funding for local young people who have a passion for food, and want a career in hospitality, all of which will start at Catering College.