The Ulverston Poem
A crowdsourced poem written by the members of the Ulverston community for Another Fine Fest, July 2019.
Read by Tony Walsh at the Market Cross and then outside the Laurel & Hardy Museum.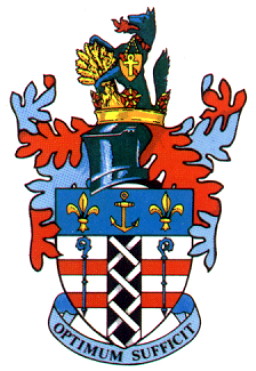 Where is Ulverston? We often get that.
It's near the Lakes, on the Bay, a dot on the map-
a tiny dot-but it's much more than that.
It's a town where the people grow and unfurl,
where you can strut in a spacesuit, a tutu, a gown.
in pyjamas if you dare-we really don't care
because we've got permission to be crazy here.

We've got Laurel and Hardy, Charter week,
Carnival, food fairs, candlelit walks.
We sup on mulled wine when the weather is dire
and parade round the streets in Dickensian attire.
Pie fights, open mics, bowler hats,
Lantern whales swimming along Queen Street-
it feels like the cobble are littered with gold:
there's something here for the young and the old.
It's a town time forgot-a place that refuses
to change like the rest. She does as she chooses.
It's a town where you pop to the shops for a loaf
and return after four hours of smiles and chat,
where anarchists perch next to ladies in pearls
and lamp posts are yarn-bombed and flags unfurled,
Where you walk back home from the rattling train
and feel that you're held and safe again,
where our hearts are open, our doors unlocked
to incomers, off comers, refugees-the lot,
where we don't hear "No", we hear, "Let's go."
Cos this is a place where we fight and battle
for the things that matter. We plan and plot.
We don't just settle for what we've got.
Let me take you through this town of ours.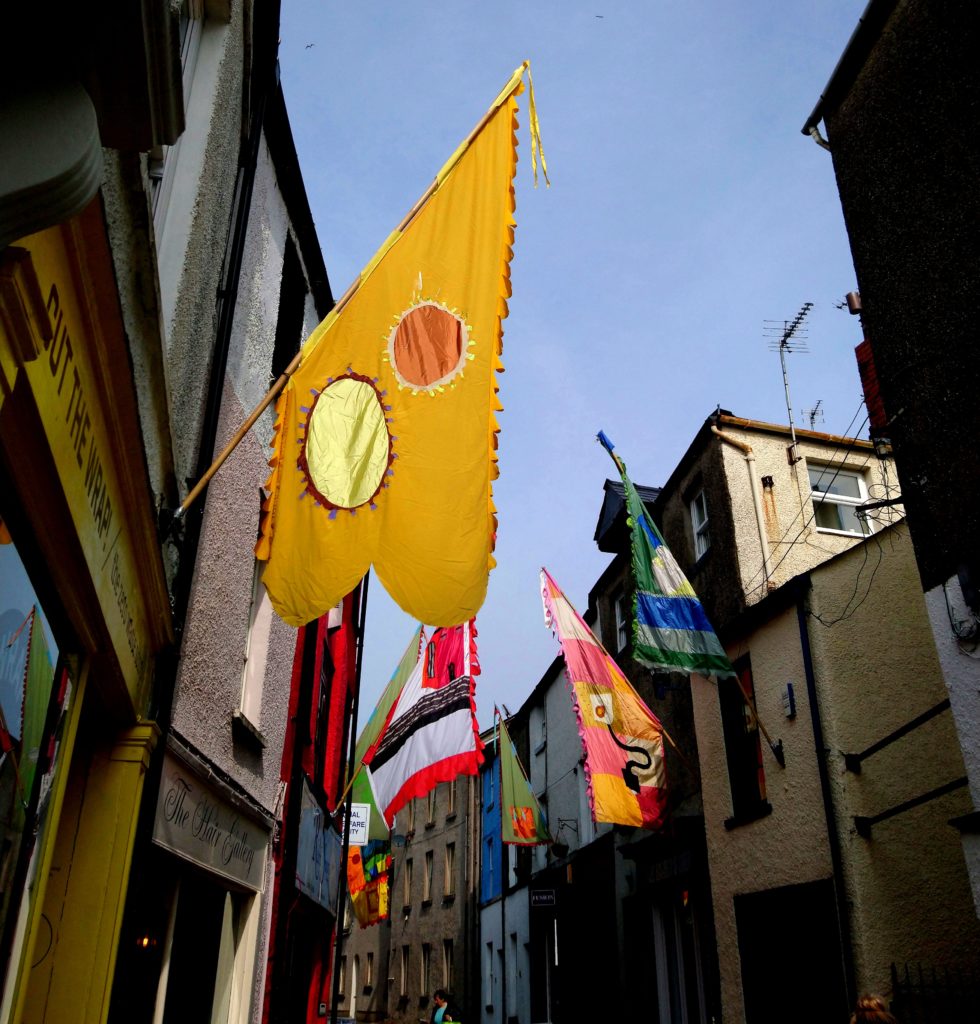 Walk down the alleys, the ginnels and yards
past the rainbow houses that nestle below
Hoad's lofty, protective gaze,
along Dragley Beck or up the Gill.
Come to the parks where dogs bark at balls
and old boys tinker with model engines.
Hear the rown band play on a Sunday morning:
Wake up! Bring your bags, roll your trollies.
Chat over carrots, give coins to the buskers.
Our shops and restaurants are funky, unchained,
We don't want the packaging or the plastic:
give us the quirky, the odd, the fantastic.
Stand for a moment and think of the past
Stan Laurel, John Barrow, Fox and Fell,
Gillam's-t'owdshop, across the road.
Bill Stables, King's Deli, Win Langton, Bill Cubin,
L'al Pig Day where local farmers could drink
all day in 20 odd pubs-and this
before 24-hour licensing-oh we knew how to live!
Remember the tang-smell from Hartley's Brewery,
the flatbed carts that carried spent hops
down to allotments to feed the crops.
If parties were a contest, we'd always win
and when there's a gig on, we'll shout "Get in!"
We're a festival town of party-giving professionals:
our gatherings, soirees and shows, they're sensational.
But we love to walk up to the of Hoad
and look down on the shimmering shore
to drink in a beauty that makes your heart soar,
or to stroll along the shortest, broadest canal
from it's Head to its Foot, on and away
into the wide, shining embrace of the Bay.
Glaxo's chimneys rise close to the shore
for Ulverston's more than shopping pies-
it's a place of technology and enterprise.
To our left a train from Grange approaches,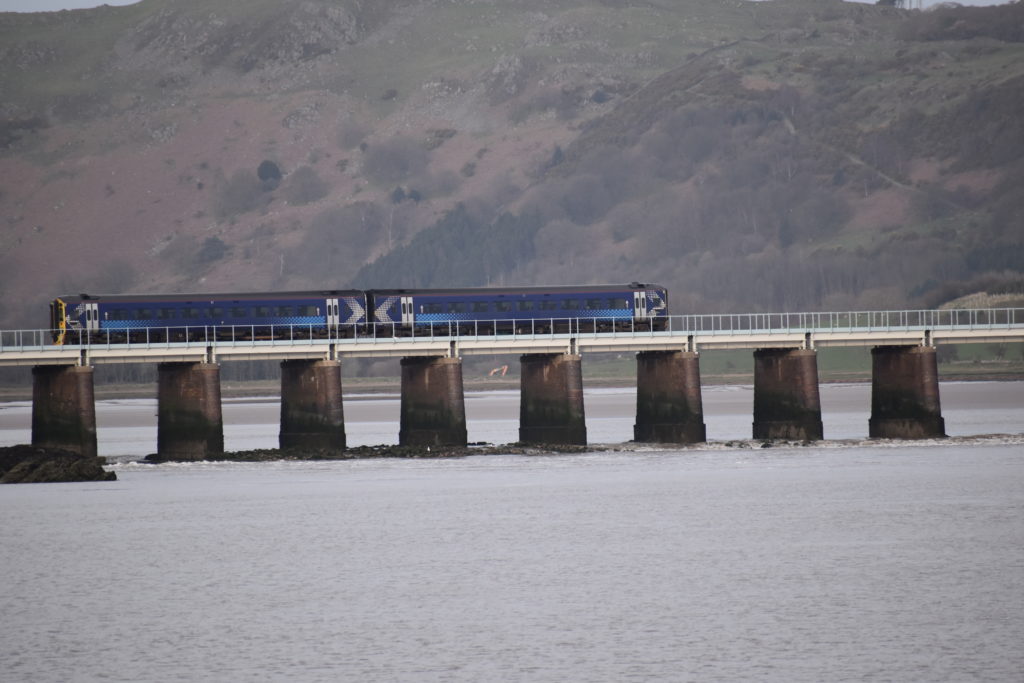 the wheels on the rails singing, modulating
to a raucous roar as it hits the viaduct,
because, yes we're off the beaten track
but we don't lack the will or the way
to go into the wide world, to have our say.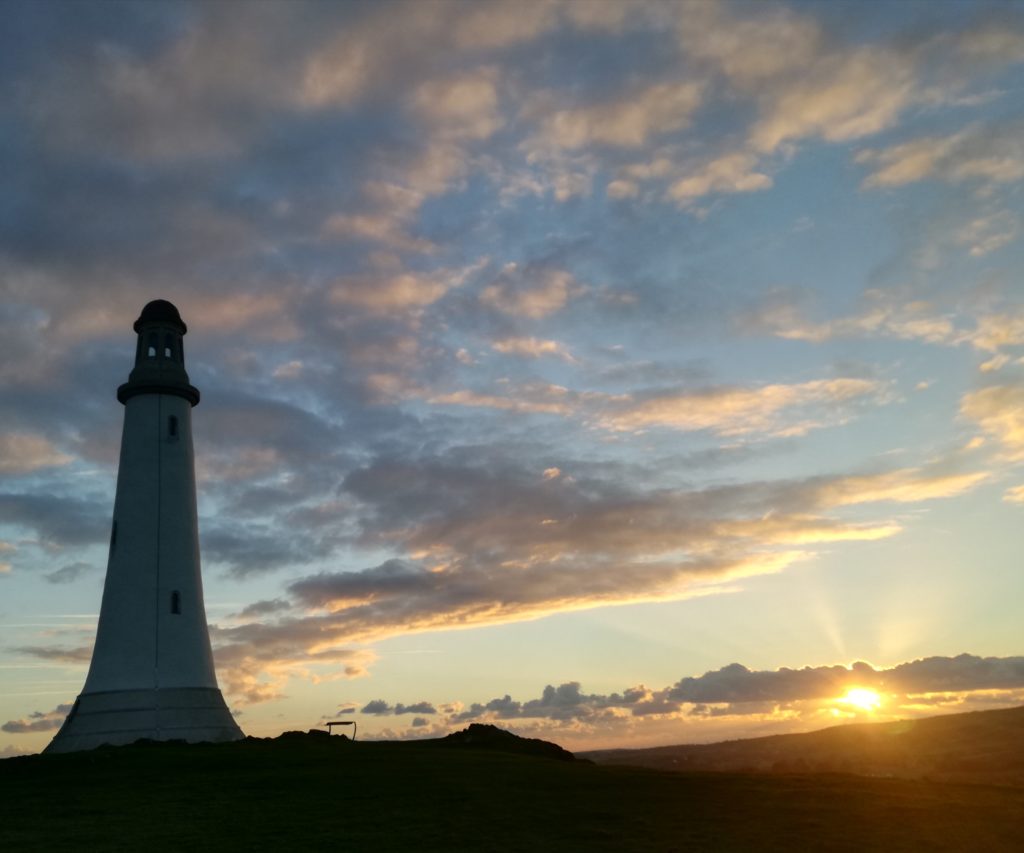 On Hoad the pale lighthouse monument
glows azure, violet or red in the dusk,
and beyond Hoad there's a rocky hill
leading skywards-Birkrigg's wild bracken
and circle of stones from pagan days
where fire met spring flowers at Beltane.
Yes, we're a party-loving town,
but there's food for the spirit and soul as well.
Margaret Fell in Swarthmoor Hall
planted Quaker roots that spread round the world
And a Gothic priory close to the shore
that once sheltered miners with clotted lungs
now welcomes Buddhists of multiple tongues.
People leave to explore but they always come back
because Ulverston has an extraordinary craic.
It's the little town with a big, big heart,
And this is our fine festival overflowing
with music, comedy, theatre and art.
We give it our all, we live it our best:
Let's make some noise for Another Fine Fest!