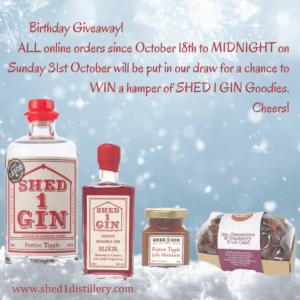 UPDATE: We have a winner! Congratulations to Natalie in Tyne and Wear, your hamper is on its way!
Okay people, where did the time go?
Shed 1 Gin is FIVE years old AND The Old Calf Shed has been our home for TWO years.
Seems like a very good excuse to celebrate with some GIN GOODIES.
If you've placed an order since October 18th or you place one before midnight on October 31st we'll enter you into our draw.
Let the good times be-GIN. Cheers!
Hamper: 50cl Festive Tipple Gin 20cl Festive Bramble Gin Elixir Festive Tipple Gin Jelly Marmalade
Ginger Bakers
/Shed 1 Gin: Gin, Clementine & Cranberry Fruit Cake
You must be over 18 to buy products from our online shop. Limited to UK residents.