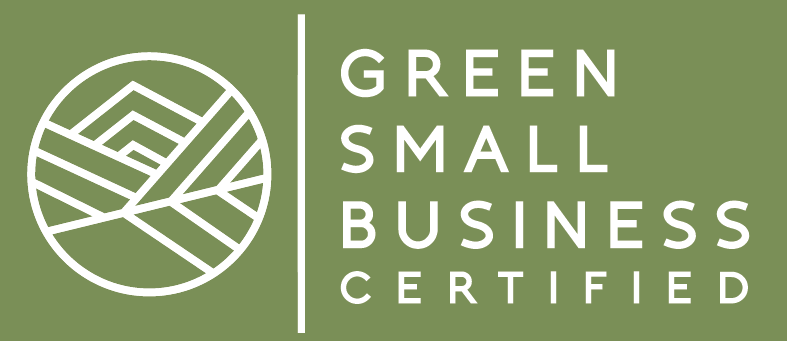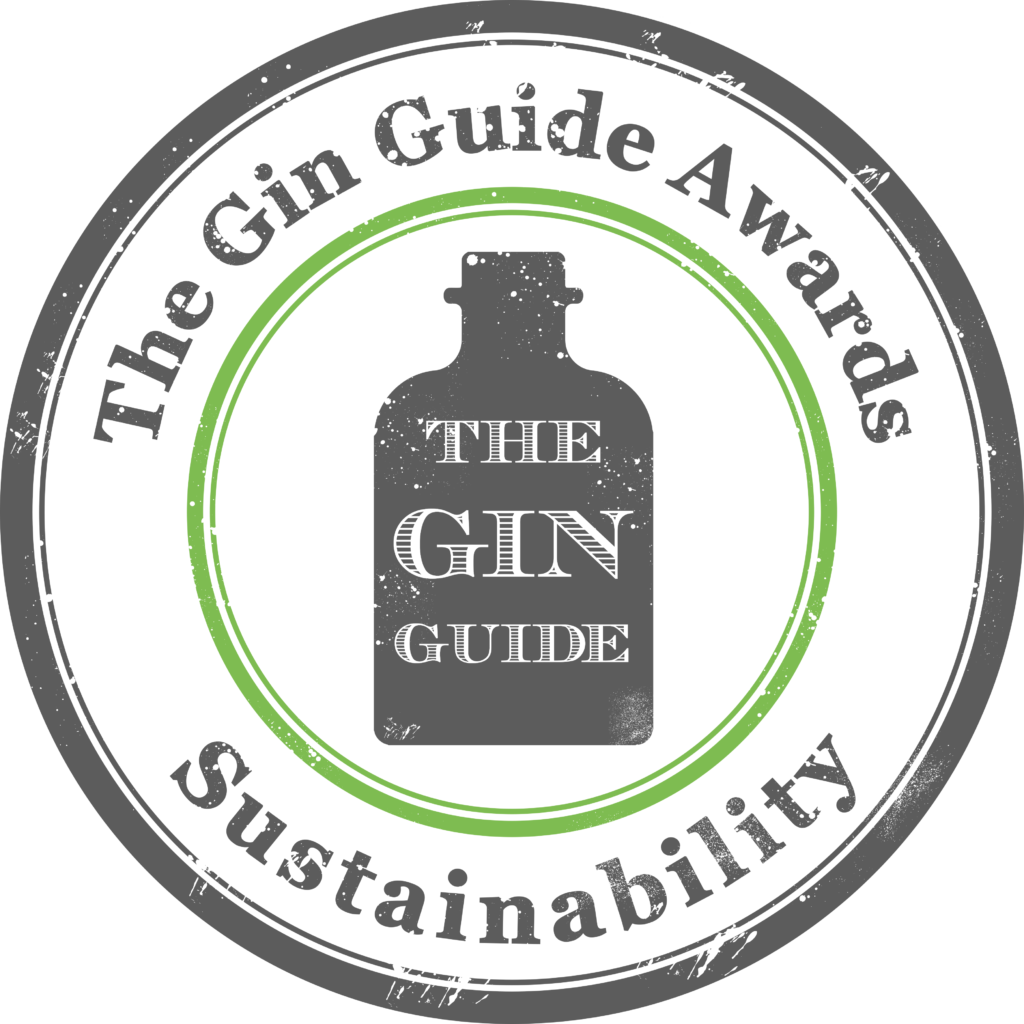 In November 2019, soon after we moved to The Calf Shed we became Green Small Business Certified. In March 2020, we won The Gin Guide's Small Producer: Environmental Sustainability award.
We endeavour to:
Incorporate environmental considerations into our business decisions.

Continually improve and monitor our own environmental performance.

Promote environmental awareness among our customers and suppliers.

We are committed to Net Zero by 2030 at the latest, and have teamed up with Small Business Britain with their latest initiative: for micro and small businesses to commit to be Net Zero by 2050. We believe that we can achieve this much sooner.
All very well in theory but what about in practice?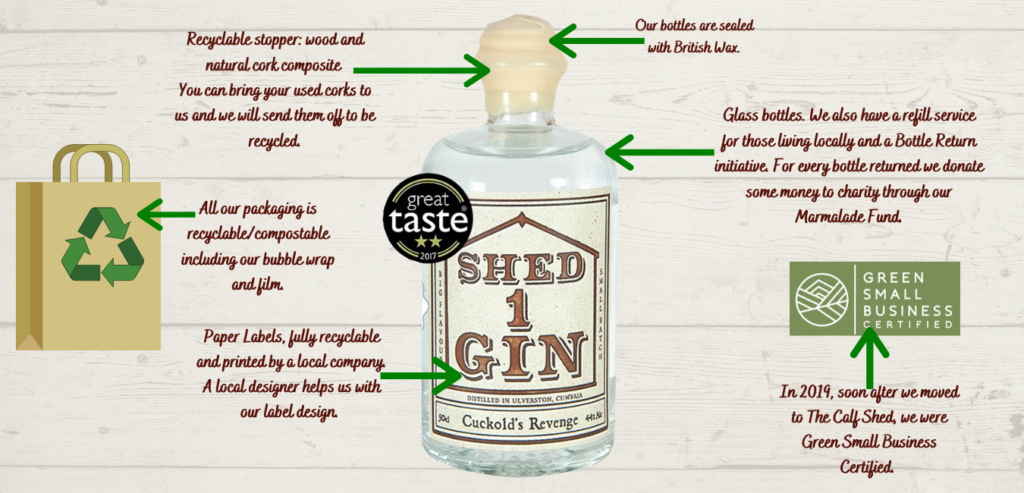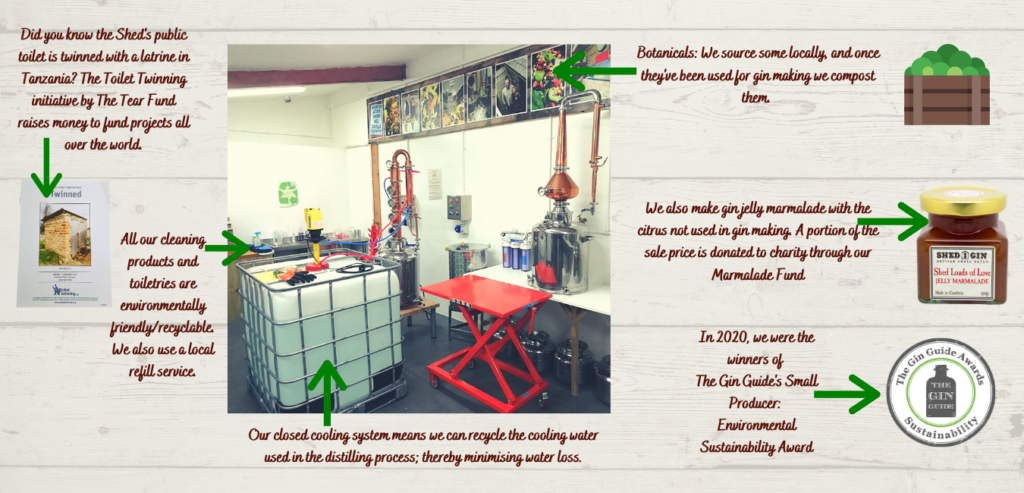 When we were first designing our packaging and choosing materials, it was important to us to be as sustainable as we could be. To that end, when you buy Shed 1 Gin, you can be assured that all the packaging is recycled, recyclable, reusable, and/or compostable. We invested in a cardboard shredder which is a lot of fun! It shreds cardboard into nets which we can then use to wrap our bottles in. So, cardboard comes in from goods ordered, and we shred it and use it to package the goods we send out. When needed we supplement with green, compostable bubble wrap which, if it ends up in landfill, degrades and adds nutrients to the soil. 
Of course, when it comes to the ingredients in our gin we also want to maintain high quality and that means some do have a fairly high carbon footprint. The best cardamon, cinnamon and nutmeg for example, just don't grow well, or in the quantities needed in the UK. Juniper does grow here, but the quality and quantity can't be relied on. However, we buy from UK growers and importers where we can. Our chillies start their life in Warton, Carnforth in our friend's, Picking Posies, market garden. We continually research sources for our botanicals and recently found a British company growing high quality coriander, Beacon Commodities. As for our Festive Bramble Gin Elixir, we forage every blackberry from Ulverston and all the apples come from another friend of ours who has an orchard in the town. He's doing his bit to keep rare, heritage apples alive and we love being able to make use of them. For our Blackcurrant and Liquorice Gin Elixir, the blackcurrants are grown just down the road from us in Levens.  And the wax that seals all our bottles comes from the British Wax company.
There are so many talented people in our town and county and so we employ local people. Pixeltweaks, is the designer who helped us at the start to get our labels just right and continues to figure out how to put the ideas in our heads into production; Fingerprints and Stramongate Press are the two printing companies we use and occasionally have to ask for something to be done yesterday; this website continues to be developed due to Sophie's talents at Furness Media and we employ local photographers for many of the images you see here.
We're lucky to live in a town and a county that embraces new ideas, supports tradition, and holds out a helping hand to people and the environment. We're proud to be a part of that.
To find out more about the companies mentioned, please click their names and you'll be taken to their website.