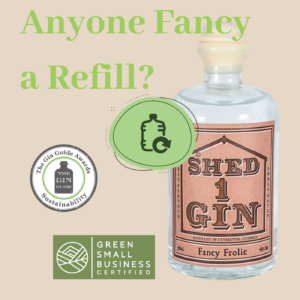 Launched by City to Sea, National Refill Day encourages us to refill our water bottles and help prevent plastic pollution.
Here at the Shed, we've launched our own  REFILL SERVICE. Not water, but GIN! Those in the area can bring their empty SHED 1 GIN BOTTLES to be refilled. At the moment we have a 10% off offer on our full sized bottles, but when that comes to an end you will get a couple of £s off your refill. If you want to use this service, please contact Zoe to arrange a time slot for your refill; 07794699913.
And remember, if you don't want to refill, we do have a BOTTLE RETURN SCHEME and we donate money to charity for every bottle returned. This is all part of our MARMALADE FUND. 
Enter code ginstar at checkout to receive 10% off our products, including first class postage.*
*Excludes Gift Packs and Gin Tin.