Are you looking for Cumbria's unique wedding venue?
Here it is!
Did you know that Shed One is an approved Wedding Venues! Where better for gin-loving couples to tie the knot? You can choose to have your ceremony in the Distillery itself, among the stills, or in our stylish Bar with views of Ulverston's iconic Pepperpot.
But that's not all... Gin Elopements!
For something completely unique, we specialise in GIN ELOPEMENTS! Just the two of you and us as your witnesses, or bring along your very nearest and dearest. After exchanging vows, celebrate by making your own WEDDING DAY GIN and indulge in a botanical-inspired AFTERNOON G&TEA. You will always remember your special day when you created your very own gin. Plus, you can then arrange a separate celebration in a venue of your choice for all your loved ones, without the costs that more traditional wedding celebrations are known for!
Price starts from £390.00
Intimate Weddings
Shed One, Cumbria's unique wedding venue is also perfect for the more intimate CELEBRATION, with a capacity of up to 30 people. Be married by a registrar with your nearest and dearest looking on and continue your celebrations, all in the same venue. We have the drinks side of your event covered, and can provide Afternoon G&Tea for you and your guests. Or, bring in your own caterers and we'll liaise with them. We can recommend a number of professionals, from photographers to florists and mixologists to caterers and we will liaise with them to make your day perfect.
Price for venue hire starts from: £975.00
Prices do not include registrar and licence fees.
Contact details for the registry office are here.
Bespoke Gin for your Celebration
You may have your dream venue booked. However, you could make it even more special with your own Gin to serve to your guests. Come and create your own signature gin at Shed One and surprise your wedding guests with a bespoke tipple. 
For those wanting a pre or post celebration with a difference, we offer Distillery Tours & Tastings, botanical-inspired Afternoon G&Teas and Make Your Own Gin Experiences. And did we mention our "Cocktail & Cakes" plus other special events, like our Crafternoons?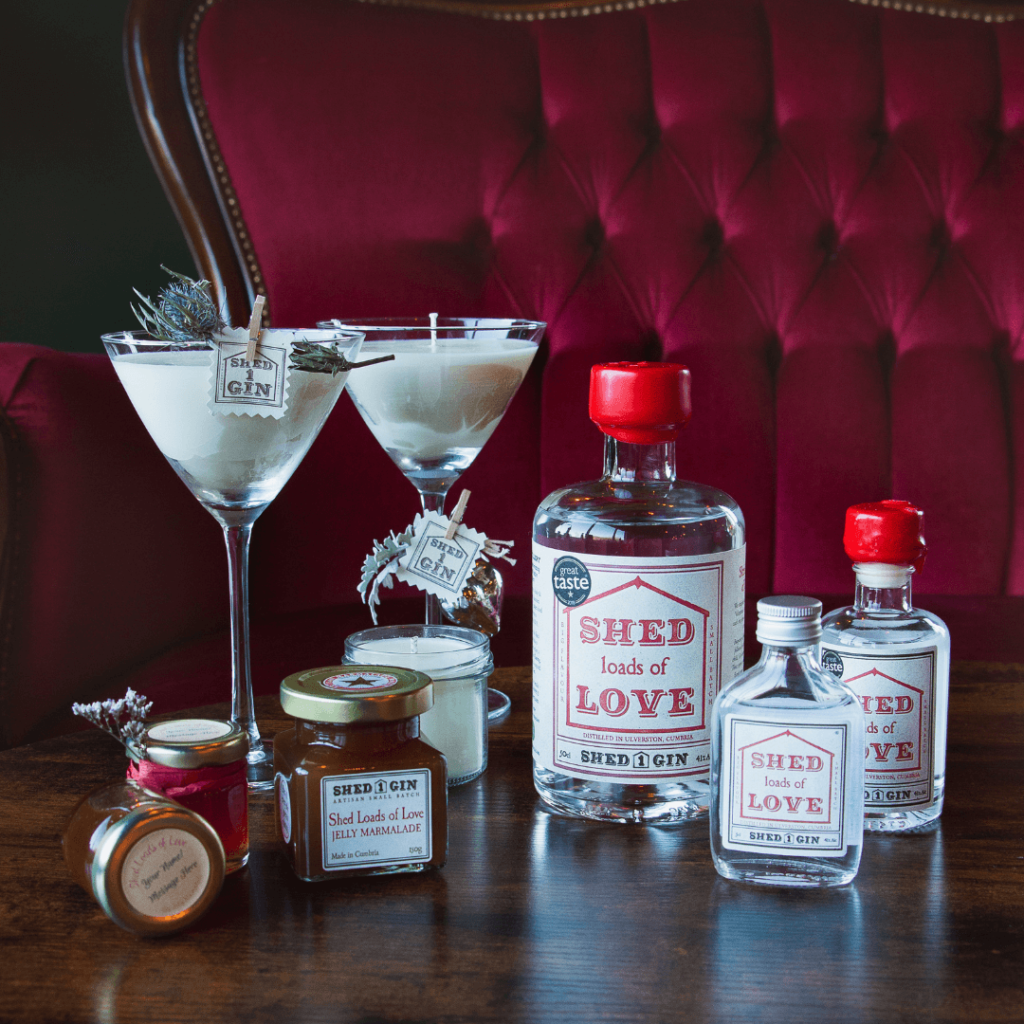 Wedding Favours: Shed Loads of Love Scented eco-candles, 5cl Shed Loads of Love Gin, Personalised Gin Jelly Marmalade Favours.
Wedding Recommendations
Victoria Sedgwick:
Photography
I've been capturing the best in people for over 15 years both in the UK and beyond. Everything connects eventually but it's the quality of the connection that matters and even more so on your special day. Relaxed shots that are also complementary.
Contact details: Victoria Sedgwick
---
Kindred Spirit:
Cocktails
Carwyn created a Breakfast Martini for the Shed's Grand Opening and it went down a storm!
He creates tasty, great quality and thoughtfully made cocktails, influenced by his extensive travels. 
Contact details: Kindred Spirit Cocktails
---
Tracy Wells Designer Millinery:
Hats and Fascinators
Tracy is an award-winning couture milliner based in the lovely market town of Ulverston.
She designs and makes hats and fascinators using traditional millinery techniques. All of her hats are handmade with careful attention to detail.
Contact details: Tracy Wells
---
Erda Botanicals:
Flowers and bouquets
Becky Hindley creates natural and unique floral designs using British grown flowers.
My work is seasonal and sustainable and inspired by the surrounding countryside. I love to bring a little bit of the wild side to you.
Contact details: Erda Botanicals
---
The Box LA12:
Wedding Caterers
Established caterers based in Ulverston with many years' experience.
Mike & Amy will help you choose the perfect food for your special day.
---
Bluebell and Ivy:
Wedding Flowers
Whether you want a simple bouquet that is classic and clean, or wedding flowers to make your guests' jaws drop, you will find what you are looking for in Bluebell and Ivy.
 Lauren likes to work closely with her couples to ensure that their wedding flowers reflect their own individual love story