Afternoon G&Tea At The Shed Gift Voucher
£28.00
The Sweet Treats and Scones in our Afternoon G&Tea are Gluten-Free,
Gluten-free bread is available on request.
We host Afternoon G&Teas at The Shed on Saturdays. You can book and purchase for a particular date, or buy vouchers and contact us.
We have limited availability for groups wanting to book a different day to those posted. Please contact us to discuss. 07794699913.
Distillery Tour followed by a Botanical-inspired Afternoon G&Tea at the Shed.
Start off with a Welcome G&T followed by a chat in the distillery where we'll talk about about gin and how we produce it.
After that, relax in our unique and quirky Visitor Bar, with views of Ulverston's iconic Pepperpot, to enjoy our botanical-inspired sweet treats.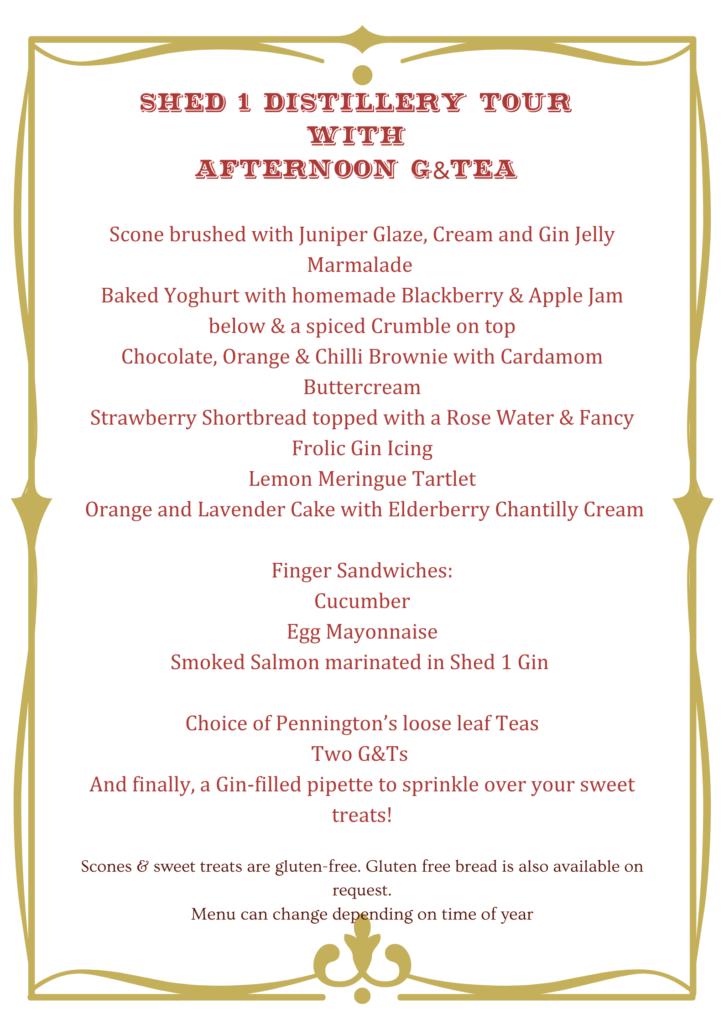 A 10% discount is included on any purchase made during your visit.
This experience lasts for a maximum of two hours.
Menu subject to change depending on time of year.
*Please be advised that our Afternoon G&Tea contains milk, eggs & fish. Ingredients may have come into contact with peanuts and tree nuts.
**Although we can substitute elements, some cross contamination may occur.
Ts&Cs apply