In 2019 we collaborated with the talented Lisa Smith and her team at Ginger Bakers. All the hard work was down to her, we supplied the Gin and then had the very pleasant task of tasting the samples! You can purchase from Ginger Bakers (they also have an online shop with national delivery). We also stock it during the festive period.
We are very pleased to say that both Ginger Bakers & ourselves are National Finalists in the Rural Business Awards (Best Food Producer and Best Drinks Producer). We'll find out the results in February, 2021. Fingers crossed!
Packed with plump fruit with the tang of cranberries and clementine all soaked in award winning Shed 1 Festive Tipple Gin.
If you want to make it at home, here's the recipe.
Makes 1 x 500g loaf cake
Ingredients
115g Sultanas
95g Dried Cranberries
20g Mixed Peel
20g Chopped Dried Apricots
25ml Shed 1 Festive Tipple Gin
65g Salted Butter at room temperature
60g Dark Brown Soft Sugar
1 Large Free-Range Egg
6g Glycerin
2 x Clementine Zest
65g Plain Flour Sieved
¼ tsp Ground Cinnamon
¼ tsp Ground Nutmeg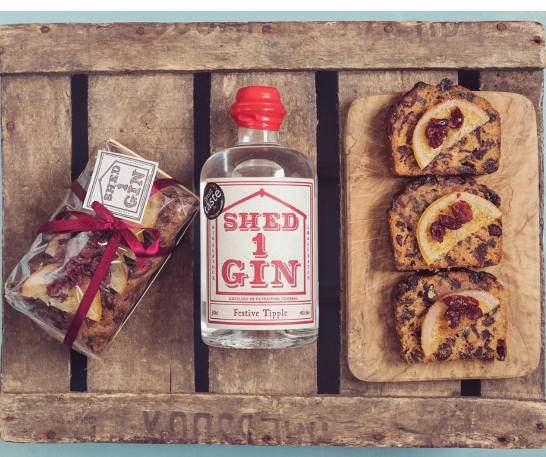 Topping
1 tbsp Sieved Apricot Jam
5ml Boiled Water
2 x Glace Orange Slices
10g Dried Cranberries
Method
Weigh out the dried fruit into a bowl, cover with 20ml of Shed 1 Festive Tipple Gin and leave for a minimum of 24 hours.
Preheat the oven to 150 degrees/gas 2. Grease and Line a small loaf tin.
Beat the butter and sugar until pale, smooth and creamy.
Beat in the egg slowly then add the glycerin and clementine zest until all are combined.
In a separate bowl combine the sieved flour, cinnamon and nutmeg.
Add a spoonful of the flour mix to the butter mixture and combine, then add a spoonful of the soaked fruit mixture and combine. Repeat until all the ingredients are used.
Put the mixture into the lined tin and bake for 50 min - 1hour. A metal skewer should come out clean when inserted
Remove from the oven and pour over 5ml of Shed 1 Festive Tipple. Allow to cool and remove from the tin and paper.
Brush with a mix of apricot jam and boiled water then decorate with glace orange slices and dried cranberries.