We have relaunched  our limited edition Shed Loads of Love Gin with the addition of 24k Gold, Silver and Champagne Leaf (50cl bottles only). It doesn't detract from the award-winning taste, but we hope it does add a smile!
Shed Loads of Love comes in 10cl and 50cl bottles and is also available 3x10cl Gift Packs. We are also featuring this, along with 3 more of our Gins, in February's Virtual Gin Tasting Event. The perfect gift for the one you love, or the ultimate treat for yourself!
And talking of Virtual Gin Events...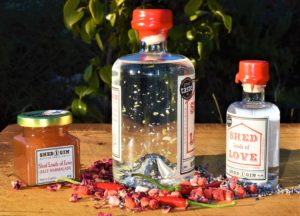 'Our November and December events proved very popular and the feedback was so positive, we were asked a number of times if we would be repeating these tastings in 2021', said Zoe, one half of the husband and wife team that makes up Shed 1 Distillery. 'It was also great having people back in the Shed, regardless of it being virtually, and talking about what we know and love: Gin!'