Looking for the perfect Valentine Gin gift for the gin lover in your life? Look no further!
Shed Loads of Love
Our award-winning Shed Loads of Love is a heady mix of rose petals, lavender and strawberry with a hint of chilli for added warmth. To top it off, we've also included 24ct gold leaf, silver leaf and champagne leaf in this Valentine Gin. Drink on its own, or mix with tonic and add a couple of ice cubes. You can also find the recipe for our Valentini Cocktail on our Serving Suggestions page.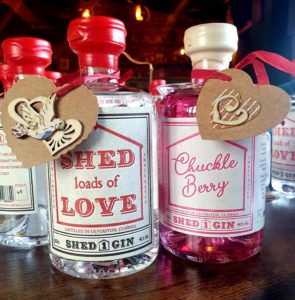 Chuckleberry Gin
If your Valentine prefers something a little bit more cheeky, our latest creation, Chuckleberry Gin could be just what you need. Made with chuckleberries (they are a real thing!) with hyssop and meadowsweet to produce a tart-sweetness with herby notes. The beautiful colour is all natural and comes from the Chuckleberries, making it the perfect pink Valentine Gin.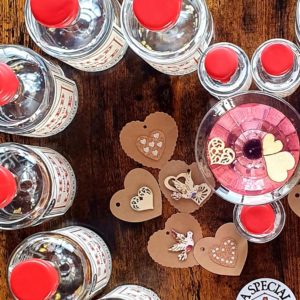 Be Kind To You & Yours
Here at the Shed, we believe Valentine's Day is a celebration of all things related to love. Caring, sharing, kindness and understanding. Family members-related or chosen, friends, soul mates, lovers, and most definitely self-love. A day to remind ourselves how important love and care is for ourselves and those around us, and remember those we've loved and lost. However you decide to spend the day, we hope you can take some time for you.
There are a lot of articles and sites out there about self-love. If you need a bit of inspiration on how to care for yourself, we like this one from Forbes Magazine, written by Noma Nazish, plus you can listen to it if you don't feel like reading!
Chuckleberry Gin Review
We sent out a few 5cl samples of Chuckleberry and here's just one of the reviews we got back:
"Thank you for the lovely samples of Chuckleberry! I did not share and have enjoyed both little bottles to myself…I love it! The colour is great - it's so exciting to have a pink gin which isn't super-sweet. I must say how much I love the packaging/branding too - even if I didn't love the taste, I'd buy a bottle just to look at.
As for the taste - I'm a big fan. Shed Loads of Love is my favourite and I think this is big competition - the little bit of sweetness with a big hit of tartness is so refreshing and totally for me. I think it'll be a great one for the summer too. It tastes complex and it changes on the palette and I'm excited to buy a bottle and try it in some cocktails!" K. Goodall
Drink responsibly and enjoy.