Do you love Strawberry Gin? Then you will love our lime, ginger, and strawberry flavoured Fancy Frolic Gin.
This gin was born from the idea of bottling all the flavours of spring and mixing it with our award winning, small batch, classically distilled craft gin.
Whilst watching our Border Terrier frolicking on a wintry beach our thoughts turned to hazy, warm days in the sun. Those thoughts led to a gin with a lovely sunny flavour that could remind you of spring and summer and could be enjoyed all year round!
When creating this gin, we were looking for bigger, bolder flavours than we found the gins we sampled. We settled on a mix of ginger, strawberries and three types of lime: petals, leaf, and fresh zest. Perfect for people who love Strawberry Gin and want to try something a little different.
Fancy Frolic Recipes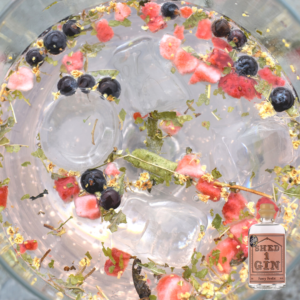 We love using this gin in our recipes and have created Fancy Frolic Gin Shortbread and Fancy Frolic Gin & Ginger Syrup for pancakes. The gin is a wonderful addition to desserts and ice-cream, offering a bit of luxury and a spring flavour to your creations.
If you would like to order a bottle of Fancy Frolic for yourself of as a gift, click here to visit the product page. Postage is FREE to the UK and you can choose to have a gift card included.
Fancy Frolic is 1 of 6 classically distilled gins, each with its own unique flavour-profile in our online shop. If you want to try a selection of these, you can buy one of our gift packs that allows you to try three different flavours in a 10cl size. Click here to see the full range.
All our gin is distilled by us in the small market town of Ulverston, near the Lake District. Where you can take a tour of our gin distillery, book a gin experience, taste our famous Afternoon G&T or book an event or wedding!
We look forward to welcoming you soon!
Keep up to date with all the latest on our Facebook page.